Last week we told you about 5 hi-tech sustainable building projects. This week it's the opposite. If you didn't like last week's steel and glass sky scrapers then these might be more your cup of tea.
1. Lammas Ecovillages
In their own words Lammas exists to…
…support the development of ecovillages in West Wales. It has been designed using a model that can be replicated across Wales. It combines the traditional smallholding model with the latest innovations in environmental design, green technology and permaculture.
The Hockerton Housing Project (HHP) is the UK's first earth sheltered, self-sufficient ecological housing development. The residents of the five houses generate their own clean energy, harvest their own water and recycle waste materials causing no pollution or carbon dioxide emissions.
3. Simon Dale's low impact woodland house
The house was built with maximum regard for the environment and by reciprocation gives us a unique opportunity to live close to nature. Being your own (have a go) architect is a lot of fun and allows you to create and enjoy something which is part of yourself and the land rather than, at worst, a mass produced box designed for maximum profit and convenience of the construction industry.

Tinker's Bubble is an intentional community located at Little Norton near Yeovil in south Somerset, England. It was established in 1994 on 40 acres of land consisting of about 20 acres of woodland as well as orchards and pasture. Much of the pasture is maintained traditionally using scythes for hay making. Tinker's Bubble earns a small income by selling organically grown produce at local farmers' markets and selling sustainably produced timber which is felled by hand, logged by horse and sawn by a wood-fired steam-engine driven sawmill. (From Wikipedia)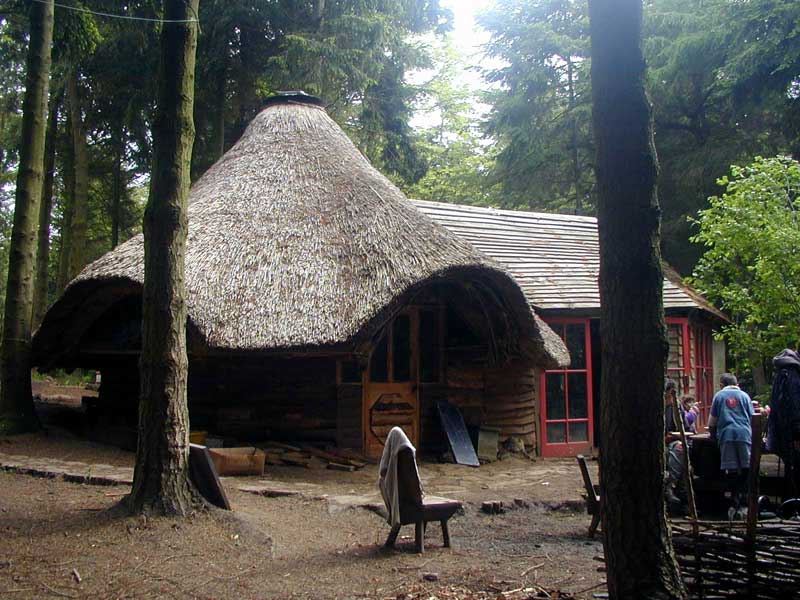 Cae Mabon is a hidden in an oak forest clearing by a little white river (Afon Fachwen) that cascades down to the nearby lake (Llyn Padarn). At the heart of Cae Mabon is a thatched Roundhouse like those lived in by our ancestors for thousands of years. Circling the Roundhouse and blending into the landscape is a family of seven elegant natural dwellings – a strawbale Hogan, an oak and slate Longhouse, a cedar log Lodge, a cob Cottage, a redwood Chalet, a Hobbit Hut and a cedar Cabin.